Have you heard about Elements pre rolled cones? Keeping 'elements' in mind, Elements Ultra Thin Rice Papers Pre Rolled Cones include Earth, Fire, Water, and Wind when producing their popular product. One of the most must-have products from one of the most popular brands, Rolling Ace is a proud distributor of their high-quality papers and pre rolled cones. Forget about rolling and concentrate on smoking, with Elements Ultra Thin Rice Papers Pre Rolled Cones you can expect a smooth, slow burn, and nothing but pure herbs due to its tasteless and ultra thin rice paper. And if that's not enough, Elements Ultra Thin Rice Papers Pre Rolled Cones have no chemicals, no standard pulp, and no hemp - something we think is amazing!
At Rolling Ace, we bring you nothing but the best from your most popular and trusted brands. You name it, we'll have it! If you're looking for high-quality pre rolled cones, then you've defiantly come to the right place! Enjoy your favorite products delivered right to your doorstep with our easy check-out system. For those looking for the ultimate bundle and to save, check out our bundle's pages to see whether you're favorite Elements products can be found there at a special bundled discount price!
With high-quality pre rolled cones from Elements, we're sure you'll have nothing but a top-class smoking experience! Get your herbs out, set aside your accessories and tips, because Rolling Ace is here to provide you with all your smoking needs! If you can't find what you're looking for give us a buzz and we'll happily help you out. With such a wide selection of your everyday smoking accessories, we're sure we'll be able to get you exactly what you need. Don't forget to sign up for our newsletter for exclusive discounts, flash sales, and more!
Happy shopping!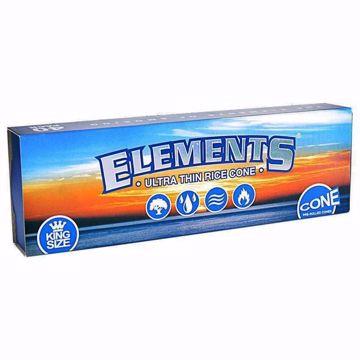 40 Ultra Thin King Size Rice Paper Pre Rolled Cones